Fluffy Autumn Pun-Cakes! ( Pumpkin Pancakes )
Rita1652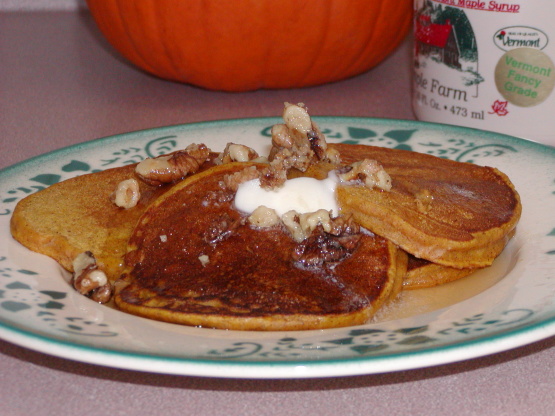 These pumpkin pancakes are so light and fluffy! It's like eating pumpkin pie for breakfast!
Mix first 3 ingredients in a medium bowl.
Add the rest of the ingredients and mix until mostly smooth.
Heat a skillet over medium heat and add a tablespoon of oil to the pan.
Cook first side of pancake until edges are dry, and the center bubbles, then flip and cook until other side is golden brown.
Serve with maple syrup, fruit preserves, cinnamon butter, or for an extra special treat smother with pumpkin pie dip (Recipe#25730) and top with a cinnamon brown sugar and chopped walnut struesel topping!
YUM.