Floating Hands Halloween Punch
gailanng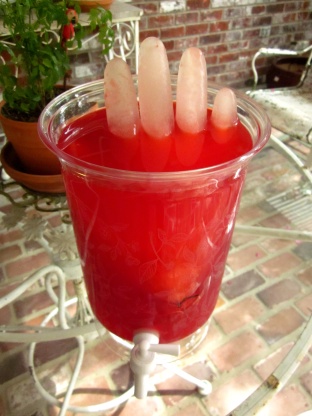 This is a great, spooky brew for a Halloween Party!

Just a suggestion, for more realistic looking hands, prop up the water or juice filled gloves on a tennis ball or a rolled up washcloth. This will give a lifelike curve to the palm and fingers of your hands! You may need to support the hands with other towels, etc, until they firm up. You could get really gross and put a few gummy worms into your "decaying" hands, too!
PUNCH

2

(64 ounce) bottlesof juicy juice punch fruit juice

1

(12 ounce) can frozen lemonade concentrate, thawed

4

(12 ounce) cans carbonated lemon-lime beverage (sprite or 7-up)
FLOATING HANDS:Water or juice, Pair of clear plastic gloves, Rubber bands or twist ties Pour water or juice into gloves, adding enough liquid to fill loosely but not so full that fingers will not move.
Fasten closed with rubber bands or twist ties.
Place on a paper towel lined baking sheet.
Freeze for 3 hours (water) to 6 hours (juice) or until firm.
Make more than one pair if you would like to replace the"hands" when they melt.
PUNCH: Combine Juicy Juice Punch and lemonade concentrate in a large bowl; slowly stir in soda.
Carefully cut gloves from hands with scissors and float hands in the punch.
When the hands have melted, replace with a new pair!