Bergy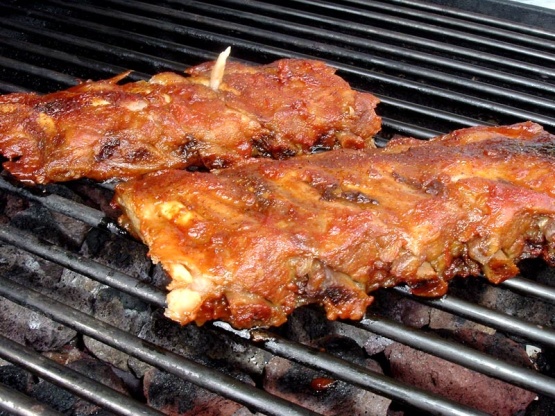 The sauce for these ribs is so tasty, you'll be licking your fingers and the plate! This would make a great barbeque sauce for most everything. The recipe comes from the Chatelaine Cookbook.

I used this recipe as a guideline. everything came out great I simmered the ribs in water with a quartered onion, garlic, salt, and pepper. then to the sauce I used all your ingredients plus some paprika, apple cider vinegar, chili powder, a couple shakes of hot sauce, and brown sugar. the sauce was fantastic and it glazed on to the ribs perfectly. I did just as the recipe said and turned often basting with sauce every time i turrned them. thanks we enjoyed them.
Cut ribs into 8 to 10 portions and place in a heavy saucepan.
Cover with water and boil gently (covered) for 1 hour to 1 hour and 15 minutes, or until tender.
To make sauce, stir remaining ingredients together.
Brush ribs with sauce and barbeque over hot coals.
Turn often, basting with sauce, until hot and glazed, about 8 to 10 minutes.