Fast Food-Style Biscuits (For 2)
Annacia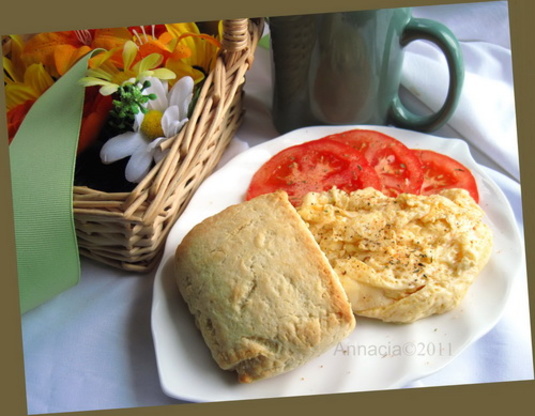 I bought the book "Small-Batch Baking" and this was a recipe I tried this morning and loved!! It made 2 normal size biscuits and one about 1/2 the size. The author, Debby Maugans Nakos, states that this is similar to "Hardee's" biscuits. Mine turned out golden on the outside and tender in the inside and so quick and easy.

Without a doubt this makes some of the best and fastest biscuits I have ever made (and I've made a lot of biscuits over the yrs!). In accordance with my diabetic mandates I used a heart healthy margarine and subbed fat free coffee creamer for the whipping cream. The recipe still yielded very light flaky biscuits. When I had the rectangle formed I just cut it in half instead of messing with re-rolling the the small scraps that would have been left. From now on this is my go to small batch biscuit recipe. What a great way to start dreary Saturday morning :D.
Place a rack in the center of the oven and preheat the oven to 450 degrees. Brush 1 tablespoon of the melted butter over a 6-inch square area on the baking sheet. Set the baking sheet aside.
Place a large fine-mesh sieve over a medium size bowl. Place the flour in the sieve and sift it into the bowl. Cut in the butter pieces with a fork by dragging the tines of the fork through the flour and butter, pressing the tines to the bottom of the bowl, until the remaining lumps are no larger than peas. Sprinkle 3 1/2 tablespoons of the cream over the mixture, and toss lightly with the fork just until the dough begins to hold together. If necessary, sprinkle the remaining 1/2 tablespoon cream over the dough to make it hold together as a soft dough. ( I needed the full 4 tablespoons).
Flour your hands, and lightly knead the dough in the bowl 5 or 6 times. Lightly flour a cutting board, place the dough on it, and pat the dough out to form a 5 X 2 1/2 inch rectangle, about 1/2 inch thick. Cut out 2 biscuits with a 2 1/2 inch round cutter. If you wish, form the scraps into a third biscuit.
Place the biscuits on the buttered square on the baking sheet. Bake until they are golden, about 10 minutes. (I baked mine for 13 minutes, until they were golden).
Remove the baking sheet from the oven and serve, or wrap in a cloth napkin to stay warm. For buttery tops, brush the biscuits lightly with the remaining 1 tablespoon melted butter when you remove them from the oven. Serve hot or warm.