Flour's Famous Banana Bread Recipe courtesy Chef Joanne Chang of Flour Bakery in Boston
Directions
Set oven to 350 degrees F. Line the bottom of a loaf pan with parchment paper.
Sift together the flour, baking soda, cinnamon and salt. Beat sugar and eggs with a whisk until light and fluffy, about 10 minutes. Drizzle in oil. Add mashed bananas, creme fraiche, and vanilla. Fold in dry ingredients and nuts. Pour into a lined loaf pan and bake for about 45 minutes to 1 hour.
Most Helpful
THE best banana bread EVER! Always a hit, and many requests for the recipe. Made as written.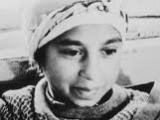 I've made this a number of times and it is the best banana bread I have ever had. I always add about 1/2 teaspoon of banana extract for a little extra banana taste. Very moist!
Without a doubt, this is the best Banana Bread ever. It is tastey and moist. It is absolutely decadent if you slice it and toast it under a toaster oven and then put a little butter on the slice. It also works well for muffins. Then you have portion control. The muffins freeze well too. Try it. You will not be disappointed!