Faerie's Simple Curry Rice
rpgaymer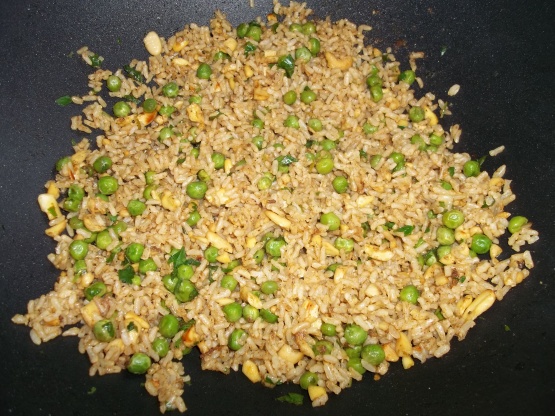 A delicious and easy rice recipe my boss gave me. it's so good and so simple.The secret ingredient is lime salt. if you can't find lime salt, grate a little lime zest in there and/or use a little lime juice in your salt, but lime salt REALLY is the way to go. Tip: this goes very well with chicken.
I enjoyed this. I usually just sprinkle some garam masala over brown rice whenever I serve rice with Indian food, but I will be using this recipe instead in the future. I couldn't find lime salt though, so I just used lime juice, zest and salt. I also added peas in with the rice. It tasted quite good, without overpowering the masala chicken that I served it under.
In a large non-stick skillet heat olive oil or butter over medium heat.
Add curry powder and lightly toast spices stirring often.
Add nuts and sauté a few minutes.
Add rice and mix, so that curry powder and nuts are evenly distributed. Season to taste with lime salt.