This is easy and good. Posted for Zaar World Tour. From FoodNetwork.com
Directions
Combine all the cut up fruit.
Add the banana at the last minute.
Most Helpful
This was served with my Father's Day brunch. There is nothing here but fresh, fresh fruit and it is so yummy. When I went grocery shopping the papayas were over ripe so I used melon and the grapes were red seedles.
Bought a papaya and mango, patiently waited til they were both at their most ripe then bought the orange, banana and green grapes which you always get ripe in the store. Nice fruit combo, particularly the banana with the mango/papaya. Red grapes might have looked a little prettier:) Thanks!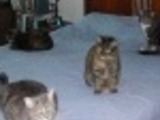 Make it a smoothie! Freeze cut fruit pieces. Add 1 cup of mixed fruit pieces to 5-6 oz of fruit juice (I used Cranergy Rasp/Cran blend) Liquefy and ENJOY!!