daisygrl64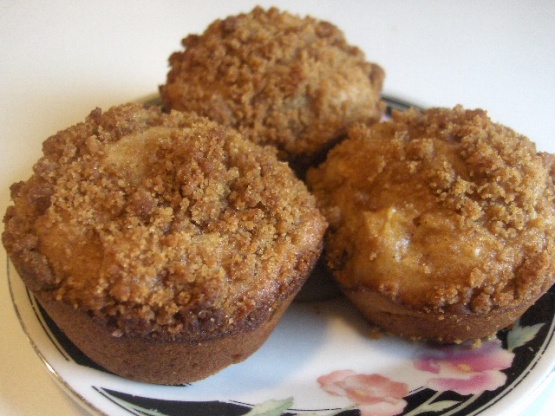 When our first daughter was born, a friend brought us a pail of these delicious muffins. It was such a thoughful gesture and perfect to snack on during that first couple days at home. Whenever I make these now I can still "taste" those first new days of motherhood. Thank you Erna!

These are terrific muffins! They're moist, tasty and smell wonderful while baking. I made them exactly as the recipe states. Thanks so much Pamela for a recipe that I'll be making on a regular basis!
Topping-mix all together, until mixture forms crumbs.
Batter- Whisk together egg, buttermilk, butter, and vanilla.
Stir in sugar.
Without mixing, add flour, baking soda, salt and apples.
Stir just until combined.
Do not over mix.
Spoon into muffin cups.
Sprinkle with the topping.
Bake at 375 degrees F for 20 minutes or until firm to the touch.