Bayhill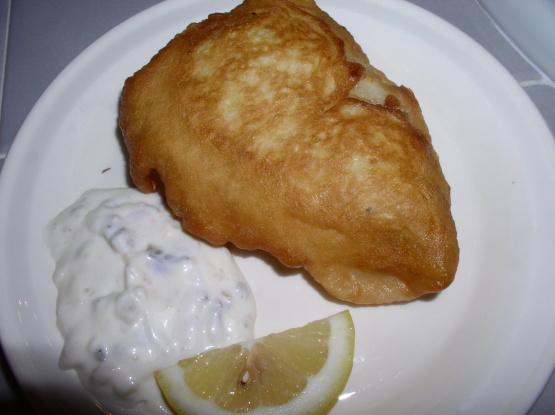 This beloved recipe, which has been in my family for decades, is great for making authentic English-Style Fish & Chips. It also makes excellent onion rings or zucchini squash "half-moons." Be sure and plan your fish fry in advance as this batter requires a few hours refrigeration.

Fantastic! Amazing! Perfection! This recipe is absolutely the best ever. I from the Northeast where Fried Haddock on Friday nights is a staple. This batter brought me back to the "Good Old Days". Thanks so much for sharing. I will definitely keep this in my repitoire.
Let beer stand at room temperature until flat.
Refrigerate egg whites; beat together egg yolks, beer, butter or oil, salt and pepper; whisk into flour to make a smooth batter; refrigerate batter 3-12 hours.
When ready to fry fish (I use cod or halibut) pieces, bring egg whites to room temperature then beat them until stiff; fold beaten egg whites gently into beer batter.
Blot fish pieces dry with paper towels; dredge each lightly with flour then dip into batter to cover completely.
Deep fry fish, a few pieces at a time, at about 375° until batter is cooked and deep golden-brown; drain on absorbent paper then serve.