Emeril's Crunchy Pralines
PKG178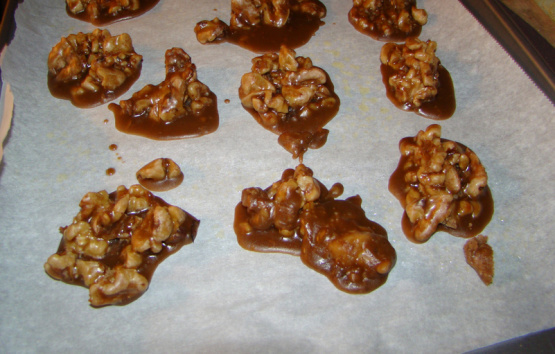 Taken from the Emeril cookbook, Louisiana Real and Rustic; posted for ZWT 5.

Top Review by PKG178
Made this without a candy thermometer--living on the edge! I took it off the heat about 1 minute early and watched it like hawk. It created a sweet and crunchy praline! Very easy, just have to watch it carefully and make sure not to burn it! Thanks for sharing.
Combine the sugar, butter, and water in a heavy saucepan over medium heat. Stir to dissolve the sugar.
Continue to stir for 3 to 4 minutes; the mixture will begin to boil.
Add the pecans and continue to stir for about 5 minutes.
Remove from the heat.
Drop by the spoonful onto wax paper.
Let cool.
Remove from the paper with a thin knife.
NOTE: Pralines may be stored in an airtight container at room temperature for about 2 weeks.