Ellen's Spicy Gingerbread Men
mandz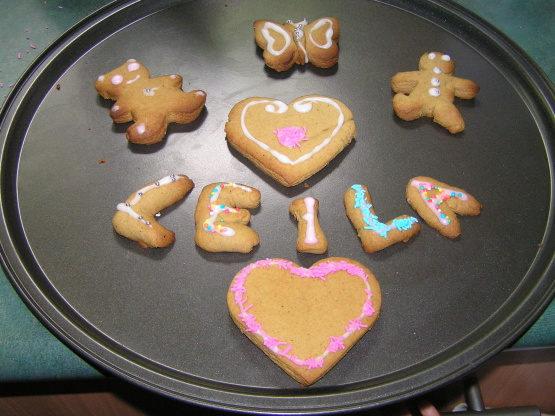 You just have to love Gingerbread Men. They are great fun to make. Grandkids and I use make them every Christmas season when they were younger. And shorter.

I am giving this 5 stars because it makes perfectly soft chewy cookies, not hard crunchy ones. I baked them for the full 10 minutes and followed the recipe exactly. The only thing I would change is the amount of cloves - I agree with those who say it's too much cloves. Thanks for the great recipe Myrna 2!
In a large bowl, cream margarine and sugar til smooth.
Stir in, molasses and egg yolk.
Combine flour, salt, baking powder, baking soda, cinnamon, cloves, ginger, and nutmeg; blend into the molasses mix.
til smooth.
Cover and chill for at least 1 hour.
Preheat oven to 350%.
On lightly floured surface, roll the dough to 1/4 thickness.
Cut into desired shapes.
Place 2 inches apart on ungreased cookie sheets.
Bake for 8- 10 minutes.
Remove and cool.
Frost and decorate.
At Easter, for an added surprise, I like to dip them in melted chocolate and then decorate.