Elizabethan English Herb and Flower Salad With Honey Dressing
COOKGIRl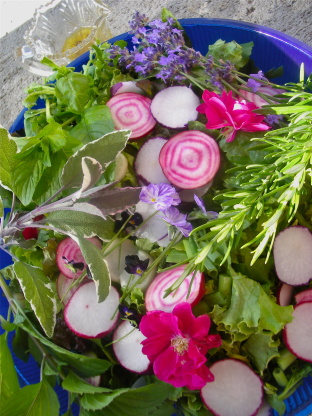 An old Elizabethan salad recipe, but with an air of modernity about it, as our interest increases in herbal and floral remedies in today's busy, stressful and hectic world. I have made some suggestions about which flowers and herbs to use - but PLEASE do check that the flowers and herbs you choose to use are edible!! The French also use flowers in their salads, and although the title suggests this to be an English recipe, this style of herbal and floral salad will have been very common throughout Medieval Europe. I serve this at the Auberge when the flowers and herbs are in season - freshly picked from my garden; it is always enjoyed with great relish and is a vibrant topic of dinner party conversation! It makes a lovely appetiser or can be served with the cheese course for an unusual and pretty accompaniment. Make sure that your flowers and herbs are insecticide free, and are not traffic polluted as well.........wipe them or wash them gently, allowing them to dry before using them.

Bursting with color and flavor, this is a winning salad recipe in my book: Book #82435 This time around I added arugula (rocket), baby spinach, loose leaf red lettuce and watercress. For the vegetables, 'Easter Egg' radishes and a special striped radish from Asia. The produce was (almost) exclusively local organically grown. Fresh herbs and fresh flowers from the garden (lavender, violas, roses). Used local blackberry honey in the dressing. I love the dressing by the way! This salad was a huge hit at our 4th of July get together and I thank you for posting the unique recipe! cg ;)
1

bunch watercress, washed and trimmed

6

spring onions, finely sliced

4

leaves sorrel, shredded

1

bunch lambs lettuce, washed and trimmed

6

radishes, trimmed and thinly sliced

3

sage leaves, chopped

3

mint leaves, chopped

1

stalk fresh rosemary, leaves from

2

tablespoons olive oil

1

tablespoon lemon juice

1

teaspoon clear honey
salt & freshly ground black pepper
fresh edible flower (calendula flowers, roses, primroses, lavender, blue borage, violets, nasturtiums, pansies, marigolds)
Toss together the watercress, lamb's lettuce, spring onions, sorrel, sage, mint and rosemary leaves.
Mix together the olive oil, lemon juice and honey - season with salt and pepper. Toss the salad with the dressing.
Place the salad in an attractive serving dish. Scatter the edible flowers over the top of the salad.