lazyme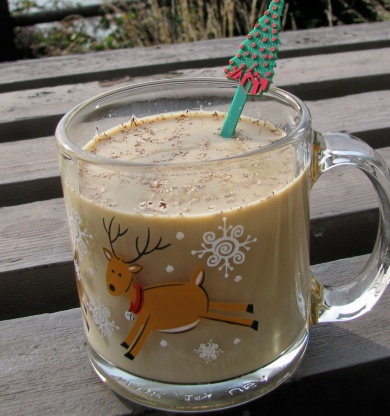 This is from a Company's Coming Christmas Celebrations cookbook that I bought for myself at the after Christmas sales.I am drinking this right now,it is scrumptious!There are a few others recipes here similiar to this but not exact so I thought I would post this one too. I divided all ingredients in half and got 2 cups of lattes.I used about 1 tsp of Baileys Irish Cream Caramel Flavor in mine.I also omitted the nutmeg,not a big fan of it.For the coffee I used instant.3 tsp into hot water.
Heat eggnog in medium saucepan on medium for about 5 minutes,stirring occasionally,until hot but not boiling.
Remove from heat.
Add coffee.
Stir.
Divide liquer among 4 large mugs.
Ladle eggnog mixture into each.
Sprinkle with cinnamon and nutmeg.