MelT5789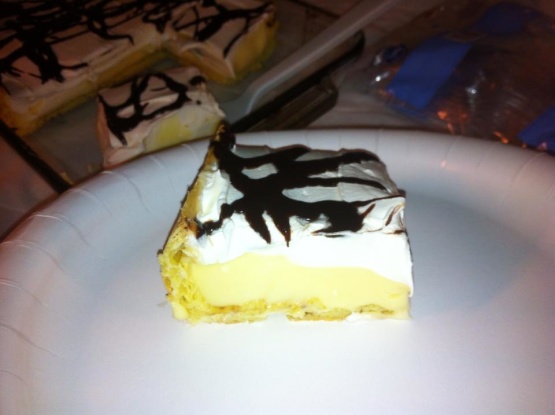 The crust of this cake comes out very puffy when it is baked. Tastes "airy" like a cream puff. Different from the graham cracker crust you usually see in recipes. Worth the few extra minutes it takes. Excellent for pot lucks.

Delicious!! I made a few changes as I've had this dessert before when a friend made it and decided to add 2 tbsp of sugar to the crust while mixing and instead of 1/2 tsp of vanilla I did a whole teaspoon. I find this dessert is even better the next day. Next time I make it I'm going to make my fresh whipped cream per my family's request but it's seriously one of our favorite desserts :)
CRUST: Boil water and butter together. Mix in flour. Using mixer, beat in eggs one at a time. Add vanilla.
Spread in a greased 9 x 13 pan.
Bake at 400 for 25-30 minutes. Cake will NOT be smooth or uniform in appearance.
Let cool.
FILLING: Cream together cream cheese and milk, adding a little bit of milk at a time. Mix in pudding and beat till thick.
Pour mixture over cooled crust.
Spread whipped topping on top.
Drizzle with chocolate syrup.
Refridgerate at least one hour.