Easy Low-Carb Spinach and Feta Quiche
Jacqdav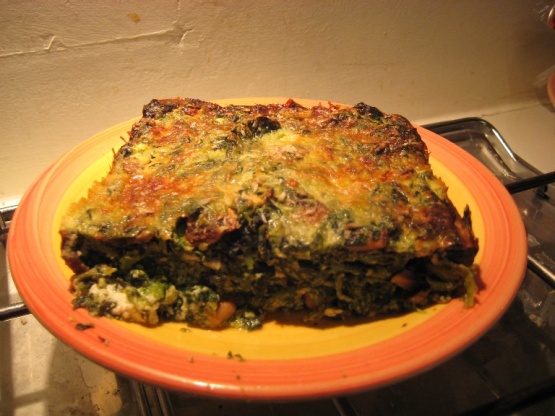 I adapted this from a recipe I got off a sainsbury's flour package. Its really easy and very yummy.
Thx for posting. We love feta and so I wanted to try this. I left out the raisins and nuts, and because I had no fresh spinach, I used frozen that was thawed and squeezed (relatively) dry. I had about 370 grams of the frozen, thawed stuff. I baked it for 45 minutes, as I was skeptical that it was cooked. My oven is also a bit cool. However, after I let it sit and cool a bit, it sliced beautifully. You can really taste the spinach in a nice way and it is not too greasy. Also I liked that it had only 2 eggs. I love eggs, but perhaps too much so I try to watch the cholesterol and fat and many of these 'crustless quiche' receipies seem to call for 5 or 6 eggs. I thought it would not stick together but it did. Wonderful - so easy and tasty !! This will be part of our rotation. I may try to add some garlic and onions next time just to see how it works with the feta.
Pre-heat oven to 190 degrees celcius.
Cook spinach until tender. Drain, rinse with cold water, squeeze dry and roughly chop.
Beat together soured cream and eggs, stir in feta cheese, chives and season with salt and pepper. Add spinach and pine nuts and sultanas if your are using them.
Pour into a ceramic dish, sprinkle with parmesan and bake for 30-35 minutes until firm and golden brown.