Easy Incredible Taco Soup
CIndytc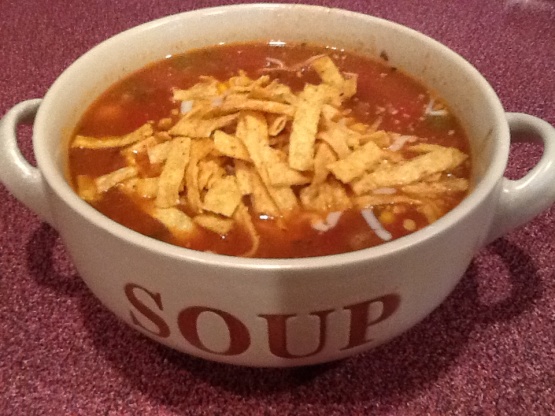 Okay - this soup is very yummy! I didn't believe it until I tried it - a web friend from Memphis sent me this recipe - I thought it was made with too many cans, packages, etc....and come on - a package of dry ranch dressing mix?! But it only took 20 mins to put together and I was short on time - it turned out great - dad loved it - and I did too. Great for working moms, cold snowy weekend afternoons, sons who have to feed aggravating widowed fathers (My Story - LOL) , etc.... I used 95% lean beef and saved the draining step, instead of the tortilla strips, I just served it with restaurant style Taco Chips and we crushed them a bit and stirred them in while eating. Yummy. You can sub chicken stock for the beer - but the beer is best - all the fun effects boil off! Even better the next day!
Brown beef in a stockpot, stirring until it crumbles and is no longer pink; drain. Return beef to pot. Rinse and drain pinto beans, corn, and green beans. Stir pinto beans and next 8 ingredients into beef; bring to a boil. Reduce heat; simmer 30 minutes.
Cut tortillas into 1/4-inch strips. Place on a baking sheet; coat with cooking spray. Sprinkle with salt. Bake at 400° for 5 to 8 minutes. Ladle soup into bowls, and top with tortilla strips.
Yield: Makes 10 cups.