Easy Caramelized Garlic Chicken
loof751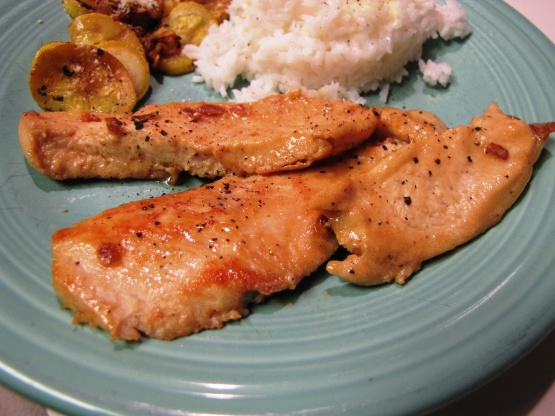 This is the best chicken I have ever made or eaten in my life. It is the perfect combination of sweet and savory, and is great for a quick, yet still fancy, meal.

This was fantastic! The only reason I didn't give it 5 stars is that the cooking time wasn't long enough for the chicken to cook through and I had to microwave it. Also, don't add the garlic so early it burns up. The flavor though.... mmmmm good!
Sprinkle the salt and pepper onto the chicken.
In a medium to large sized skillet (I like cast iron) heat the oil over medium-high heat until almost smoking.
Add the chicken breasts and garlic to the pan and brown the first side of chicken, about 5 minutes.
Flip the chicken and brown the other side, about 3 minutes.
Remove the chicken from the pan and add the brown sugar to the pan.
Allow the sugar to melt about half way and add the cream.
Bring to a bubble and add chicken back to pan
Simmer for 3-5 minutes and serve over butter egg noodles or rice.
Enjoy!