E. A. S. T. A. Alfredo Sauce
alligirl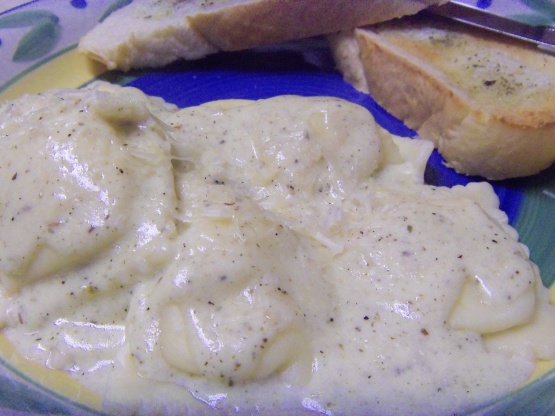 *Easy Alfredo Sauce That's Awesome*!, at least according to us! ;) So fast, so easy, so delicious...and SO not diet food. This is from my Ravioli Prosciutto Alfredo With Herbes De Provence which is shown in the photograph, but I thought I'd make the recipe for the sauce easier to find by posting it separately. It's amazing over all kinds of pasta and, we found out last night, Alfredo Shrimp Tilapia. HEAVEN!

The name for this is right on; easy AND tasty! Looking for something quick to fix, with ingredients on hand, and I found this...Lucky me! Wonderful, and comes together quickly! I'd never used herbes de provence in an alfredo sauce before, but I surely will again! Thanks so much for sharing this great recipe, Sandi (From CA)!
Melt the butter in a saucepan. Add the herbes de provence to the melting butter.
When the butter is completely melted, add the cream.
Bring to a slow simmer and thicken to desired consistency.