Fauve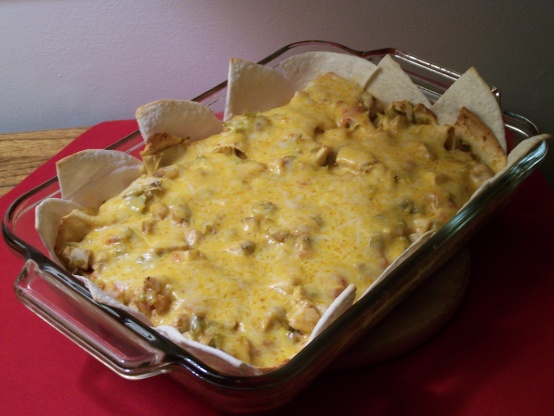 I found this recipe while looking through the coupon inserts, and it is definitely one of my favorites! Easy to make, and oh so good! :-)

Top Review by Fauve
This was simply excellent! My family loved this. I didn't use nearly the amount of tortilla wedges, though... Somehow, all that seemed a little too much. (Maybe I misinterpreted the directions?) But WOW what flavor! My husband couldn't stop complimenting this dish!!! Thank you, T.A., for an excellent recipe. I'm so glad you won the football pool!
nonstick cooking spray
2 1⁄2 cups cubed cooked chicken (I use frozen fajita chicken, cooked per pkg instructions)

2

cups shredded cheese (I like to use 1/2 Fiesta blend Mexican cheese, 1/2 cheddar)

1

(10 3/4 ounce) can cream of mushroom soup

1

(10 3/4 ounce) can cream of celery soup

1

(10 ounce) can Ro-Tel tomatoes

1

(8 ounce) can diced green chilies

1

dozen flour tortilla, each cut into 6 triangular wedges (8 inch)
Preheat oven to 375°F.
Spray a 2 1/2 quart or a 11x7x2 baking dish, set aside.
In a large bowl, combine chicken, 1 cup Fiesta blend Mexican cheese, soups, Ro-tel, green chilies and blend well.
Set aside 12 tortilla wedges.
Mix remaining tortilla wedges into chicken mixture.
Spoon mixture into baking dish.
Bake, uncovered for 30 minutes or until heated through.
Carefully remove from oven, tuck remaining tortilla wedges around inside edge of baking dish, top with 1 cup cheddar cheese.
Bake 5 minutes longer.