Double-Shot Mocha Chunk Cookies
Annacia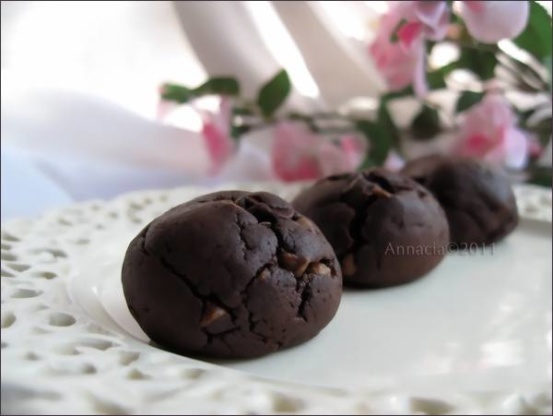 This is a King Arthur cookie recipe described as dense, brownie-like drop cookies with pools of melting chocolate inside when hot from the oven. When Cooled the chocolate pools soldify into nuggets. Sounds soooo good.

Well, I'm not at all sure why my cookies didn't flatten while baking but I really don't care. They are totally decadent and dream cookies come true. I made 2 dozen which ask for 1 1/4 cups of flour I stopped at the 1 cup as I didn't want the dough any stiffer, used 1/3 cup of egg white and replaced the chocolate chips with cinnamon chips. The result is a glorious deep chocolate cookie with a wonderful undertone of espresso. They are soft, moist (and while still warm) gooey. In other words heaven on a plate.
Preheat oven to 350.
Lightly grease or line with parchment two cookie sheets.
In medium bowl, cream together butter, sugar, baking powder, espresso powder, and salt.
Add eggs and vanilla, beating until smooth.
Stir in cocoa powder, then flour; the dough will be stiff.
Mix in chocolate chips and chunks.
Drop cookies by tablespoonfuls (about 1 1/2" balls) onto prepared baking sheets, leaving about 1 1/2" between them.
Bake for 10 minutes.
Remove from oven, allow to cool on pan.