Double Cheese and Macaroni
CrystalA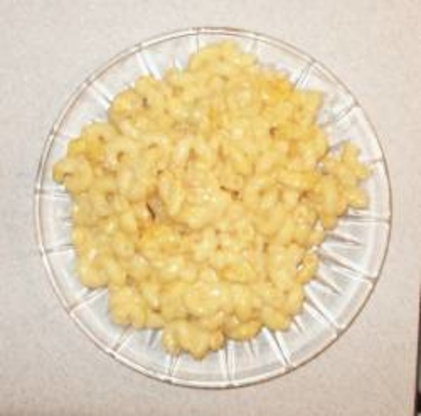 This is the recipe I came up with after trying different recipes. This is the one I always use now.

This mac and cheese was creamy and cheesy but it still lacked the comfort and "it" factor that any good comfort food captures. I made changes as follows: I used whole wheat spirals and doubled the recipe. While melting the butter, I added some minced garlic. I ended up adding 6 more tablespoons of flour- my rue just wouldn't thicken up. I only did six cups of milk (remember, I doubled my recipe) and I think that was too much liquid to pasta ratio. I added 4 tablespoons of mustard and a dash of cayenne at the end for a little kick- this really helped add depth to the dish. I did not broil because like the previous reviewer, I don't like crunchy pasta. Not a bad recipe but not the mac and cheese of my childhood memories (and I'm not referring to the blue box!).
Cook macaroni until almost done.
Preheat oven to 350.
Melt butter in pan and add flour.
Cook for a few minutes.
Gradually add milk and cook on med.
heat for about 10 minutes.
Stir occasionally to prevent any sticking.
The end result will be slightly thicker than milk.
Add salt, pepper, and cheeses.
Add macaroni.
Pour into baking dish and bake for 20 minutes.
I then broil mine for about 3 minutes more.
Let sit about 5 minutes before serving.