Double-Baked Roquefort Potatoes
Prep 30 mins
Cook 1 hr 40 mins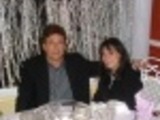 These are an elegant accompaniment to your holiday roast (like my Roast Prime Rib Au Poivre), and they're relatively simple to make. Best of all, you can prepare them the day before your big meal, and just pop them in the oven about a half an hour before serving.
Directions
Preheat oven to 375 degrees.
Pierce potatoes with fork. Place potatoes directly on oven rack. Bake until potatoes are tender, about 1 hour 15 minutes. Transfer to baking sheet; cool 5 minutes.
Halve each potato lengthwise. Scoop flesh from potatoes, leaving 1/4-inch-thick shell; place flesh in large mixing bowl. Add crumbled Roquefort cheese and sour cream to potato flesh; mash until smooth. Season mixture with salt and pepper.
Spoon potato mixture into 8 potato shells, mounding slightly and dividing equally (reserve remaining 4 potato shells for another use). Place potatoes on baking sheet. Sprinkle Parmesan cheese over potatoes. Dot with butter. (Can be made 1 day ahead. Cover and refrigerate.).
Preheat oven to 400 degrees. Bake potatoes until heated through and beginning to brown on top, about 25 minutes. Sprinkle parsley over potatoes and serve.
Reviews
Most Helpful
The aroma permeated the house in olfactory assurance and I prayed each of the stars and planets were lined up perfectly. I hoped I didn't stumble or fall and my feet were swift and nimble and my hand exact for a perfect delivery..and they were. Made for 123 Hit Wonders.

I wish there was a 10-star rating, because that's what I'd give this recipe if I could! So here * * * * * * * * * * !!! :rofl: Served this with Steak a La Moutarde (Steak With Mustard Cream Sauce) and Haricot Verts (Green Beans) , Wild Mushrooms With Hazelnuts for a truly taste-tempting, totally French-ified meal while on ZWT 5 with the *Groovy GastroGnomes* Did everything you listed except for the parsley, but who needs parsley when you have BLUE CHEESE? The Peanut Gallery gave the entire meal 5-stars, but this was the "sleeper" on the menu! Good job, Jackie--you're one rockin' GastroBabe!