Divine Chicken and Mango Curry
Ambervim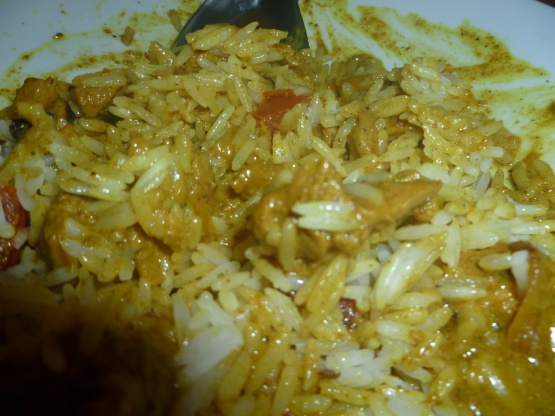 This wonderful dish is made using two of the most popular ingredients used in India and the sub-continent. The chicken is cooked in the rich coconut sauce and at the end of cooking the mango and tomato are added. I have just cooked a batch of this for the local restaurant for their curry night on Saturday.
Beat togethet the curry powder, lemon juice and yoghurt.
Marinate the chicken in the spice mix for 30 minutes.
In a large pot heat the butter and oil together, and fry the onions till light brown in colour.
Add the ginger and garlic, cook for 2 miins.
Add the chicken and cook in the sauce for 5 minutes.
Add the coconut milk and salt, cover the pot and cook on low heat for approx 30 mins till the chicken is tender.
Slice the mango and remove the skin, (go on let the yourself go and suck the stone), add the mango flesh to the pot with the tomato. Stir gently and garnish with the coriander leaves.
This is super over plain rice or noodles. Enjoy.