Pam-I-Am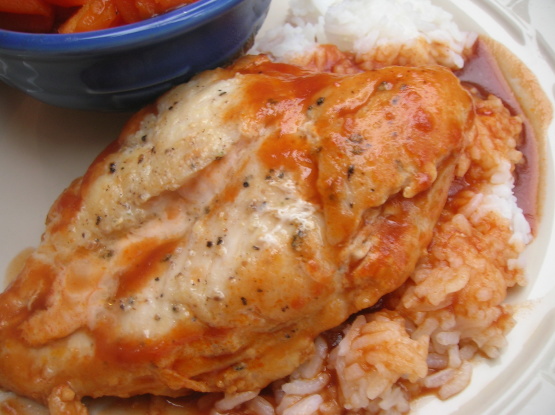 Very simple to prepare but very tasty.
I have been making Diet Coke Chicken for years. I started out using Diet Coke and I always wondered if regular Coke worked as well. To my surprise, it did! I have always used chicken tenderloins (only difference from chicken breast, more chicken, serves more people.) But my ketchup and Coke/Diet Coke I've always mixed equal parts, 1 c. Ketchup & 1 c. Coke/Diet Coke, 2 c. Ketchup & 2 c. Coke/Diet Coke. Using to much Ketchup, tastes just like Ketchup. Use too much Coke, causes the sauce to be really thin and it doesn't stuck to your chicken. Always works for me!!! Hope this helps. Enjoy!
nonstick cooking spray

1

cup ketchup

1

(12 ounce) can diet cola (I hear diet orange soda works well also)
Spray your pan with cooking spray.
Place chicken breasts in pan.
Brown lightly on each side.
Mix Ketchup and Diet Cola together.
Pour over chicken.
Cook for about 45 minutes or until chicken is tender.
Very Yummy! Oven degree?