Isabeau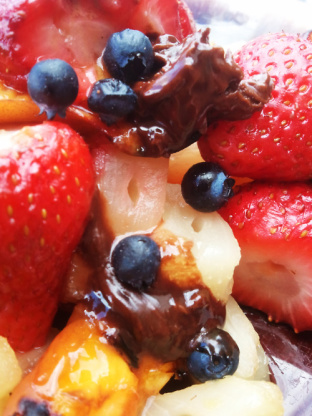 A quick yet elegant dessert or brunch item. My slight adaptation of Ontario's LCBO BBQ book recipe from Summer 2011. To be paired with Malibu Black Coconut Flavored Rum.

Delicious! You don't need the ice cream! I agree it would be simpler to cook the fruit in foil or a pie plate than all those skewers, if you aren't concerned with presentation. Read to do that with fruit somewhere, grill in foil with the sugar so it makes a sauce.
Place fruit in marinade (honey, lemon juice and zest, brown sugar) for a few minutes.
Skewer fruit on pre-soaked bamboo skewers. Spray grill with oil and BBQ fruit on medium heat, turning to caramelize marinade. Cook until grill marks form.
Mix hazelnut spread with rum and serve over hot fruit.
I added a handful of fresh, wild blueberries for a little zing.
Option: serve over vanilla ice cream.