Delicious, Healthy Butternut Squash Soup
Isabeau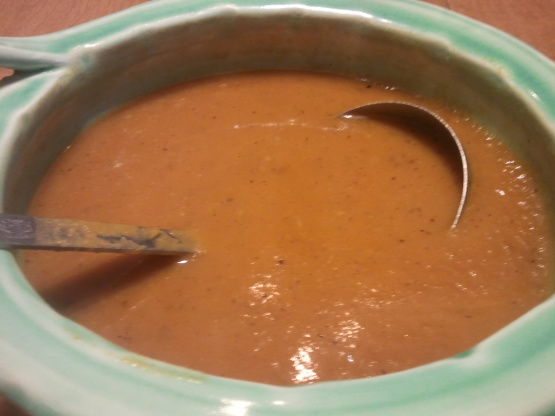 A perfect soup for those dark, cold evenings winter brings our way (and when squash is so plentiful). This soup has a very pleasant, complex, yet mild flavor that even kids can enjoy. Originally from Today's Parent, October 2010.
With a heavy knife, cut squash in half lengthwise. Peel, remove seeds and chop flesh into roughly 1" cubes. You should have about 5 cups.
Heat oil in a large pot over medium heat. Add onion and garlic, and cook 3 minutes. Add squash, oregano, paprika, and cinnamon, and cook, stirring, 2 minutes. Add broth and bring to a boil. Redcue heat; cover and simmer about 25 minutes, until squash is tender.
Purée soup untili smooth using an immersion blender, or by carefully ladling soup into a blender or food processor in batches - whir until smooth and return soup to pot. Add cilantro and warm through (with salt and pepper to taste).