Deep Dish Fresh Peach Pie -- Le Creuset Round Tarte Tatin Pan
petlover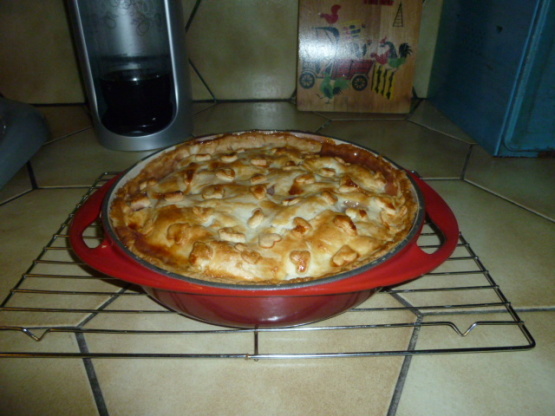 Delicious-my own recipe- this recipe is designed for the Le Creucet Round Tatin Pan. The Tatin is made of enameled cast iron. It measures approx 9 3/4 " in diameter and about 3" tall.
Preheat Oven to 400°F.
Mix peaches, cinnamon, sugar and flour-toss to coat. Set aside.
Press 1 crust into pan and mold ( with fingers) into pan. Flute edges.
Pour peach mixture into the crust.
Dot with butter.
Cut top crust into strips and lattice the top of the pie . Use extra crust to form small designs that you can put over the lattice( optional).(Or put a top crust on any other way you want).
Brush with egg white mixed with water.
Sprinkle additional sugar/cinnamon on the top lightly.
Bake for 45-55 minutes or until the peaches are bubbly and the top is browned.
Place hot pan over rack to cool.