Rita1652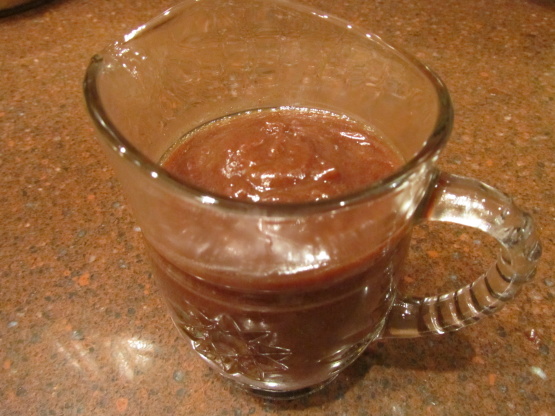 Date Syrup can be used like maple syrup and also to top olive oil couscous cake

Yes you can buy the syrup in a jar but it is so easy to make. I did have dates so this was much easier to make then running to a specialty store for the product. Also called Date molasses or dibs tamar in Arabic. This is used as a sweetener that is high in fiber, iron and calcium. This recipe produced a thick creamy syrup more paste like. Makes a great substitute for processed sugar. You can top pancake, your favorite bread, swirl into cupcake or muffin dough before baking,Oh go ahead a top a bowl of yogurt or ice cream with it, or use as Arabic recipes call for it. I made this to be used in Recipe #443553. Which I have not made yet! I must say I will make this again to use as a sweetener with many benefits!
As for this recipe I placed 8 ounces package of dates which was over 30 figs with the remaining ingredients cooked for 20 minutes then added to my vita mix. Blended to a thick yummy paste.
Thank you for posting!
dry 36 dates and chopping them in the blender.
Combine all ingredients in a saucepan and bring to a boil.
Reduce heat to medium-low and simmer, stirring frequently for 1 hour.
Cool to room temperature, put in a blender and blend until smooth.
Store in refrigerator; heat slightly before using on anything you are serving hot.
Use Date Syrup just as you would use maple syrup on pancakes, waffles, French toast, ice cream.
It is higher in fiber and lower in calories than maple syrup or honey. Makes about 1 3/4 cups.