Crumbed Lamb Cutlets (Australia)
Sonya01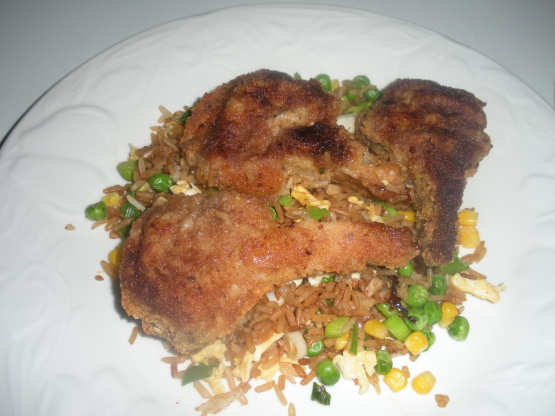 The original of this recipe was found online but has been slightly tweaked before being posted here for the Zaar World Tour 5.
Preheat oven to 350 degrees F.
Beat the egg in a bowl shallow enough to hold a whole cutlet.
Put bread crumbs in a similar bowl beside the whipped egg & then do the same with the flour in a 3rd bowl.
Roll cutlets in the flour, one at a time, then dip them in the egg before coating them with bread crumbs.
Heat oil in a large skillet over low heat, then fry cutlets for 6 minutes, 3 minutes on each side.
On a baking tray, place fried cutlets on their edge so they form a rack & then cover them with aluminum foil.
Bake 20 minutes for medium or 25 minutes for well-done lamb.