Crock Pot Spiced Peaches in Brandy
BecR2400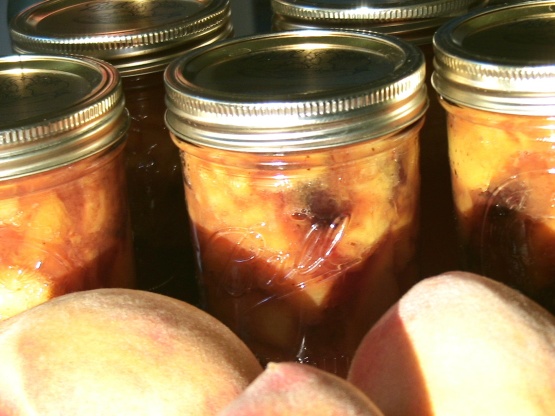 Lovely over ice cream. I've also used mango and have added dried cherries to both,

Deelish!!! Used 8 cups peeled peaches, 6 ounces dried bing cherries, and doubled everything else. Three hours on HIGH in my older model crock pot was perfect. It came to a little over three pints, and with 20 minutes in a water bath the result was glorious! It was great being able to use the crock pot simultaneously while I was preparing traditional peach jam on the stove top. Everything came done at once and I was able to shorten my time in the kitchen this way. Thank you Vicki for this lovely recipe! Made for the August '08 Crock Pot Cooking Photo Challenge.
Combine all ingredients and put into crock pot.
Cook 2-3 hours until peaches are tender.
Remove cloves and cinnamon stick.
Chill 1 hour before serving. Sauce will thicken.