Crock Pot Beef Vegetable Soup
berry271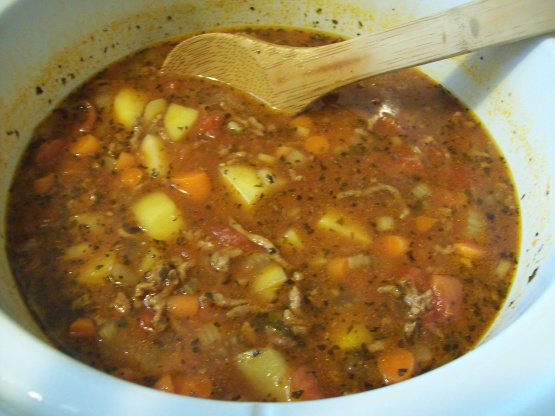 This is a very yummy and comforting soup. It reminds me very much of the beef vegetable soup that my grandmother makes, and since she doesn't use a recipe, this is probably the closest I will get. I have found that substituting ground sausage for the ground beef and carrot juice for the V8 also works. I would also note that my recipe says to cook on low for 9-11 hours. I am sure it would be ok as directed in this recipe, but it is also ok to leave in on low for longer, as that can be helpful sometimes too.
In a nonstick skillet cook beef and onion over medium heat until meat is no longer pink; drain.
Transfer to a 5-qt slow cooker.
Add the remaining ingredients.
Cover and cook on low for about 4 hours or until vegetables are tender.
Discard bay leaf before serving.