Gatorbek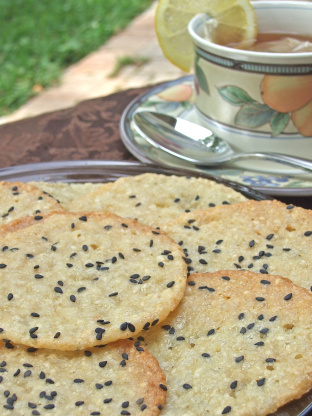 Tuiles are a cookie usually served with tea. This recipe is from Kyotofu, a New York dessert bar. From Food and Wine magazine, March 2008. These can be made ahead and kept in an airtight container at room temperature for up to 3 days.

Yum! What a delicious, adult cookie! (My kids weren't crazy about them, but that's okay - more for me!) I love the citrus and sesame flavor, and as stated, they are excellent with tea. I'm a little lazy, so I made these by doing the following: I didn't have tahini, so I blended about 4-5 tbsp of sesame seeds w/ 1/2 tsp sesame oil and maybe 2 teaspoons of veg oil in the food processor to make a paste. Then, I added the 3/4 cup sesame seeds and pulsed until they were ground. I added the flour and sugar and pulsed a couple more times, then added the juices and pulsed until the batter was blended together. I didn't read very closely, so I didn't let the batter sit for an hour, but I just spread the cookies and baked as directed. They came out wonderfully, but I don't know if they should have looked or tasted differently or not, as I've never made tuiles before. Thanks for a unique, delicious cookie that looks pretty, too!
In a food processor, finely grind the sesame seeds. In a medium bowl, whisk the ground sesame seeds with the sugar and flour. In a small bowl, whisk the butter with the sesame paste until smooth. Stir the orange and lemon juices into the flour mixture, then stir in the sesame butter until the batter is smooth. Cover and let stand at room temperature for 1 hour.
Preheat the oven to 350 degrees. Line 2 large cookie sheets with parchment paper. Scoop tablespoons of batter onto the prepared sheets, spacing them 2 inches apart. Using an offset spatula, lightly spread the batter into 3 inch rounds of even thickness. Sprinkle a pinch of black sesame seeds on each tuile.
Bake the tuiles for about 10 minutes, until evenly golden. Remove from the oven and let the tuiles stand until firm, about 3 minutes. Using a spatula, transfer the ruiles to a rack to cool completely.