Creamy Ham and Macaroni Bake
vrvrvr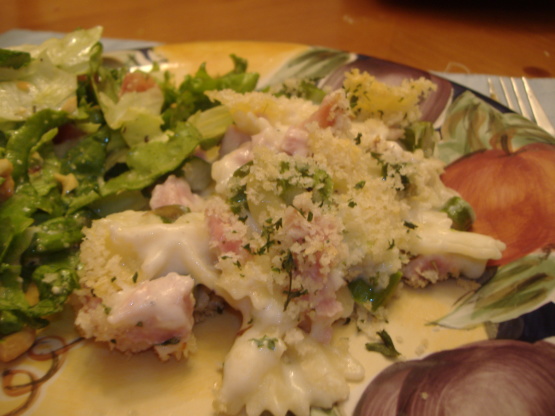 My husband tells me ASPARAGUS is disgusting, so why does he love this?. I do chop the asparagus in tiny pieces, but I'm not going to lie I can taste it--as you know asparagus has it's own taste, like trying to disguise brussel sprouts!

i thought this was ok- but then again my DH made it at my request. I had wanted him to steam the fresh asparagus I had on hand until tender crisp- didn't happen so they were still a little bit too firm for me. He also decided to use monzerella cheese- which made this VERY cheesey. I am not giving up on this though since his changes & mine just didn't wow us. so this is moving into the tried and true cookbook for another time. Thanks for sharing!
Heat oven to 350'. In a large saucepan, melt margarine, stir in flour, salt, parsley, mustard and pepper. Blend in milk. Cook, stirring constantly until thickened and bubbly. Add cheese, stir until melted. Add cooked macaroni, ham and asparagus; mix well. Pour into buttered 2 quart casserole. Sprinkle with bread crumbs. Bake for 30 minutes or until nice and bubbly.