Annacia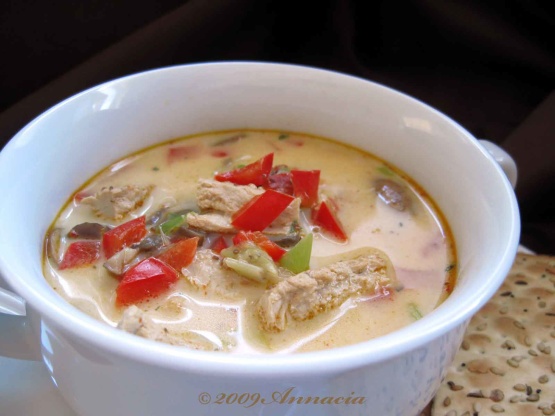 Summer is almost over here in Montreal so this soup will be great soon. This is from Ricardo. And the good thing about this recipe is that it uses only 1 saucepan. Nothing more.

Made this recipe pretty much as given, though I did cut it in half for the 2 of us! And, I did saute the mushrooms only until they were slightly tender, then set them aside, & added them again for the last 2 minutes of the final simmer! I much prefer mushrooms that are raw, but I'm OK with 'em if they're just barely cooked! Anyway, we thoroughly enjoyed the soup & will be keeping the recipe around! Thanks for sharing it! [Made & reviewed in 1-2-3 Hits recipe tag]
In a large saucepan, brown the chicken in oil. Add salt and pepper. Set aside on a plate.
In the same saucepan, brown veggies in the butter until tender. Sprinkle flour and celery seeds on them. Cook 1 minute while stirring. Add chicken stock while whisking and bring to boil always stirring. Put the chicken back in the saucepan and add the cream. Let simmer slowly about 5 minutes. Adjust seasoning.