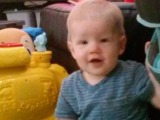 Try this as a dip and sauce for chicken, fish, vegetables, and whole wheat pasta.
Directions
Combine all ingredients in a blender and process until smooth.
Refrigerate until ready to use.
Most Helpful
Very Tasty! I liked it with cold pasta and chopped tomatoes, also as a dip it's great!
I love pesto...but am trying to watch what I eat, so I was so excited to see this recipe. It was so tasty and easy to make-I just put everything in my mini food processor and it was done in no time. Had some as a dip for jicama and used some as sauce over leftover grilled chicken cut up with whole wheat pasta...mmmmmmm Thanks for posting this Melody!! I may have to go get more basil plants for my herb garden now.