Cream of Pumpkin Soup (Kürbiscremesuppe)
awalde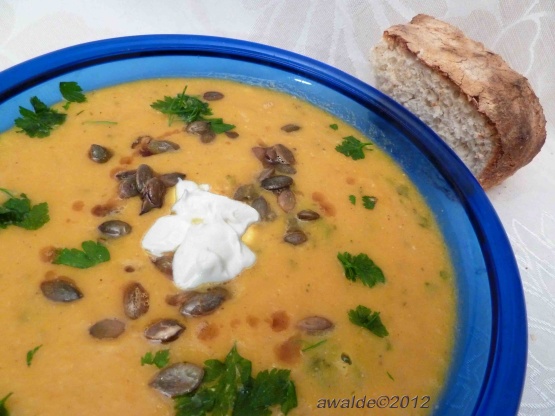 This delicious soup is traditionally served in autuum and a southern Styrian (Province of Austria) speciality. Feel free to add a pinch of cinnamon and garnish with drops of pumpkinseed oil, this really makes a difference! I only use half (100ml) of the usual amount of cream (200ml) as I find that the soup turns out to be sufficiently creamy. If you'd like to go with half of the cream, yet still desire more "texture", cube a medium sized potatoe and add to soup along with the pumpkin.
Heat butter or oil in a large pot and add chopped shallots and garlic. Let fry until translucent.
Add cubed pumpkin and stir.
Add white wine and vegetable broth and let cook until pumpkin cubes are tender (about 15minutes).
Add cream and, if using, a generous pinch of cinnamon.
Puree soup (blender or immersion blender).
Salt and pepper to taste and add chopped parsley (I like french).
Transfer soup into soup bowls/plates and sprinkle with pumpkin seed and about 1 teaspoon of pumpkinseed oil each. If you feel very "decadent" - add a dollop of whipped cream (non sugared :)!).
Serve as entrée or main dish with rustic bread.