Peter J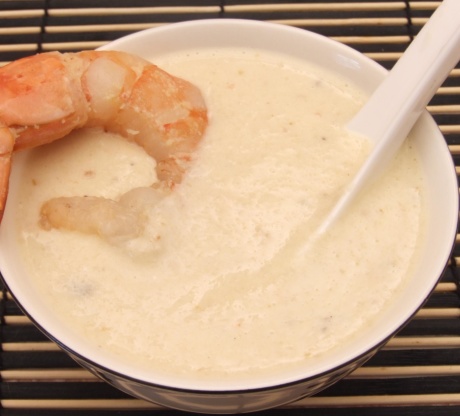 This is worth making your own fish stock for. Any white fish fillets can be used.

Really great soup! Great balance of flavours and the high proportion of seafood to liquid results in a very creamy and satifying soup. I didn't have fish stock or fish pieces suitable to make it so instead used vegetable stock with around a tablespoon of Asian fish sauce which worked well. Also to add a bit to the fish base I pan-fried the fish and prawns in the butter and reserved the butter for the white sauce.
White Sauce

25

g butter

25

g flour

550

ml fish stock

1

garlic clove, crushed

Soup

450

g cooked white fish fillets, skinned de boned, flaked

175

g peeled prawns (shrimp)

75

ml cream

50

g butter
Melt the butter and stir in the flour. Cook for 1 minute, then pour in the stock and stir away from the heat.
Season with salt and pepper, then add the crushed garlic, cover the pan and simmer for 10 minutes.
Reserve a few prawns for garnish, then pound the rest in a mortar and pestle.
Add the fish and pounded prawns to the sauce and simmer covered for a further 10 minutes.
Puree the soup in a blender, food processor or use a stick blender.
Return the soup to the saucepan checking the seasonings, add salt and pepper if necessary.
Add the cream to the soup and reheat gently.
Serve garnished with the reserved prawns.