Cranberry Vanilla Chip Oatmeal Cookies
Calee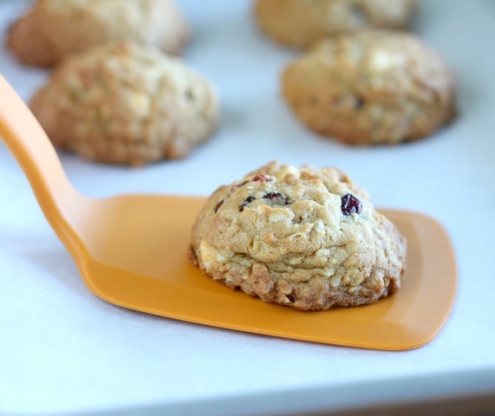 These cookies are nice and hearty! They are great for Thanksgiving and Christmas when cranberries are popular. But I also make them anytime. The dough gets VERY stiff....you may need to work it with your hands.

Top Review by Calee
Awesome cookie! I have had this recipe on my to do list for a long time and finally found some vanilla chips. I used 1 cup of chips and 2/3 cup of dried cranberries. I used a med cookie scoop and got 48 cookies and they baked up in 12 minutes at 350. Thanks for sharing this recipe, its one of my personal favorite cookies.
Preheat oven to 350.
In a large bowl, beat together brown sugar and butter. Beat in eggs and vanilla. Gradually add oats. Combine flour and baking soda and gradually mix into batter-- At this point, the dough may be so thick, you'll have to work it with your hands. Mix in vanilla chips and dried cranberries.
Drop by tbsp 2 inches apart on to ungreased cookie sheets. Bake at 350 for 12-14 minutes.