Cranberry Almond Lettuce Salad
COOKGIRl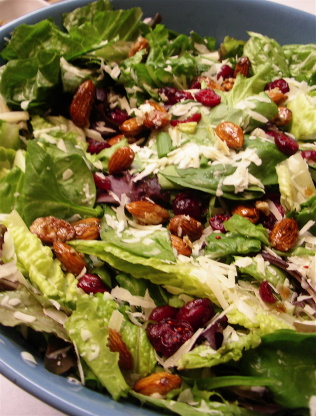 This salad has a great combination of toppings, a sweet dressing and crunchy glazed almonds.

This is a great salad! I just used a mixture of greens that I had growning in my garden. I used craisins and we did not even use the cheese. The dressing was simple and very tasty. With all of the salad that we have growing in the garden we will use this often. We love the dressing and have used it for other salad combinations. I did use a raspberry balsamic vinegar and have used a splenda blend instead of sugar.
Combine dresssing ingredients in a jar with a lid and shake well.
Combine salad ingredients in a large bowl.
In a sauce pan or skillet combine sugar and almonds.
Stir constantly until nuts are glazed.
Be very careful not to burn.
Pour nuts on waxed paper separating them to cool.
Mix dressing with lettuce and top with almonds to serve.