Cracked Pepper and Honey Butter Popcorn
loof751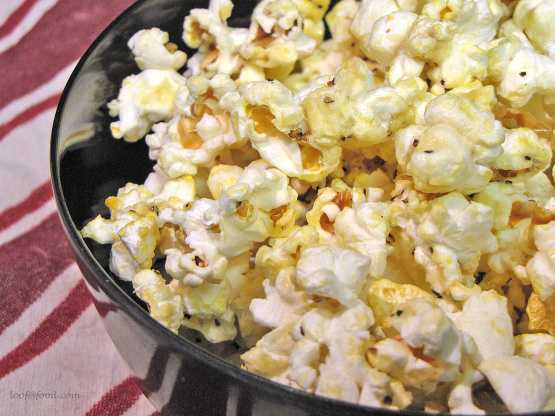 This sweet and spicy grown up popcorn recipe is from the Winter 2010 issue of the LCBO's Food and Drink Magazine. If you are making it ahead of time you can reheat it in s 200F oven on a rimmed baking sheet for about 5 minutes. Completely cooled the popcorn can be stored in an airtight container for 2 days.
8

cups popped popcorn, warm and freshly popped

2

tablespoons butter

2

teaspoons honey
3⁄4 teaspoon black pepper, coarsely ground
1⁄4 teaspoon salt
Place freshly popped popcorn in a large bowl.
Combine the butter and honey, and microwave them on medium until both ingredients are melted, about 40 seconds. Stir Well.
Drizzle over popcorn and toss well. Taste and adjust seasoning, if necessary.