Coriander/Cilantro Yoghurt (Very Easy Side Dish)
Syrinx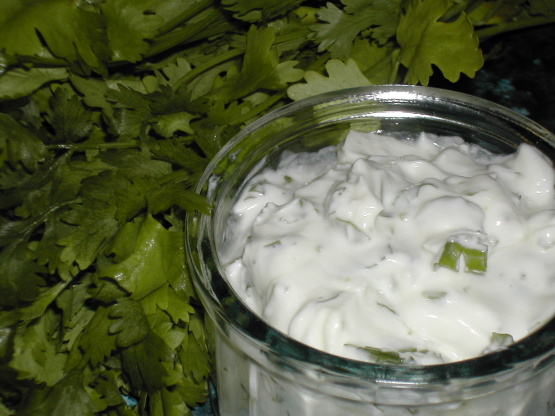 The easiest ever side dish! Goes beautifully with all Middle Eastern meals, barbecues, plain grilled chicken and quite a lot of other recipes. Great as an accompaniment to salads. And so easy, it's ready in a flash!

We tried this tonight to go along with Traditional Saudi Kabssah, #136851, and found it to be very good. Just for fun, I made part of a batch according to the directions, and added finely chopped green onion (about half of one) and about two loose tablespoons of finely chopped fresh mint to the fresh cilantro. OMG, it was great!
2

cups Greek yogurt (500g)

1

cup fresh cilantro (1 bunch) or 1 cup coriander, chopped (1 bunch)
salt, to taste (optional)
pepper, to taste (optional)
Chop the cilantro/coriander, then stir into the Greek yoghurt.
If you want to, season to taste with salt and pepper, but it isn't necessary.
Serve cold.