lets.eat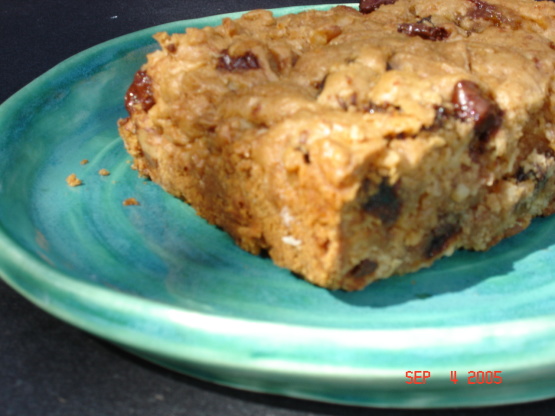 The first time I had these I thought "These should be called I've-Died-And-Gone-To-Heaven Bars!" The recipe is from long time family friend and neighbor Matel Viall... and one of my very favorites!

These were okay and make a decent snack cookie, but I'm not all that sure i liked the raisins in them. I expected the combination of ingredients to be much better than it was. I made them for my Christmas tray this year and my friend, who is my official cookie taster and who is always honest and who always tastes the cookies befoe I say anything, felt the same way I did and said that although they were good, they were her least favorite of all the cookies I had made. I might try then again one day without the raisins and maybe add extra coconut and/or chocolate, but i wouldn't make them again for something like a Christmas Cookie tray.
Melt butter or margarine in large saucepan.
Stir in sugar; cool 10 minutes.
Add eggs, one at a time, stirring well (do not use a mixer).
Stir in flour.
Add remaining ingredients, mixing well.
Spread in a 15 x 10" pan.
Bake 30 minutes at 350°.
Cool and cut into squares.