Coney Islands (or Sloppy Joes)
Bergy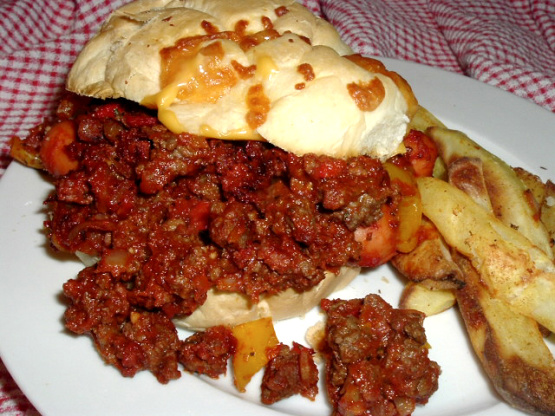 Coney islands are served often at fairs. This meat mixture also makes excellent sloppy joes. Fast and easy.

I had a pound of meat, so I doubled everything else. After the spices were in, it seemed a bit bland to me, so I added 1 tablespoon brown sugar, 1 tablespoon worcestershire sauce, garlic powder and ketchup to taste. I also added a sprinkle of hickory smoke flaver powder (from Great American Spice Company) and then let it simmer until it was thick. I just used it as a sloppy Joe on a homemade bun. It was really tasty! The green pepper added a very nice touch. It was fast and I almost always have those ingredients on hand. Will be making again. Karen, thank you again for another great recipe!
Cook beef, onion and green pepper until meat is browned.
Drain.
Add tomato sauce, water, chili powder, paprika, salt and pepper.
Simmer 15 minutes.
Cover frankfurters in cold water in a saucepan.
Bring to boil.
Simmer 5 minutes.
Place frankfurters in warm buns.
(or top hamburger buns with meat mixture).
Top each with meat mixture.