Condiglione (Italian Tuna Salad)
gailanng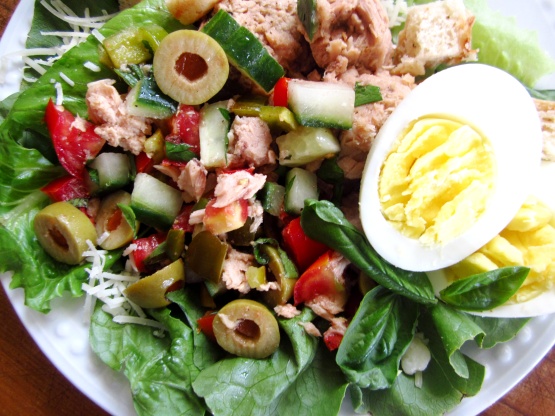 In the hot, humid summer months, I prefer to have a cool, refreshing salad for dinner. This happens to be one of my favorites.
Turn tuna out onto saucer without flaking.
Sprinkle with 1 teaspoon each oil and lemon juice and season lightly with 1/4 teaspoon each of the salt and pepper.
Let stand at room temperature to marinate.
Just before serving, combine tomato, bell peppers, cucumber, onion, garlic, and herbs in mixing bowl.
Sprinkle with remaining 1 Tablespoon each oil and lemon juice and season with remaining 1/4 teaspoon each salt and pepper.
Toss gently to combine.
Add tuna and toss once.
Make a bed of romaine leaves on serving platter and spoon salad on center.
Arrange eggs around edge and sprinkle with olives and cheese.