Cold, Cough, Hot shot remedy
Pam-I-Am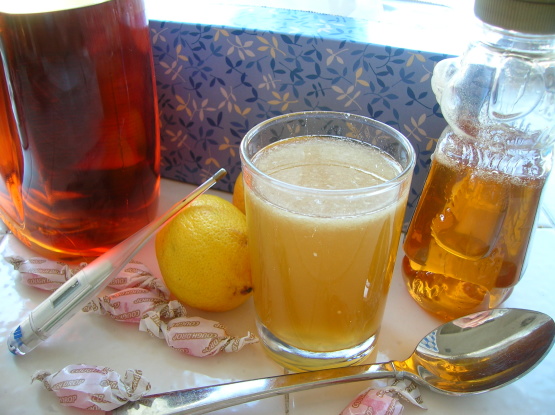 This is a 50 year old family recipe. I like it because it can be used in several different ways. Plus it contains vitamin C!

I was really worried with the SARS problem going around Singapore, so I tried this remedy when dad fell ill with the flu. Anything to ensure it isn't sars. Well if it was..this worked MIRACLES, if not, well it is a sure cure for the flu. Dad took it two nights before bed, and his flu left immediately. THANK YOU SO MUCH FOR A PEACE OF MIND!!!
Equal parts of

whiskey (good kind)
fresh squeezed lemon juice
Mix equal parts and chill in fridge.
You can take this by the spoonful cold as a cough syrup or for your sore throat.
Or you can add a big spoonful to a cup of hot tea.
Or you can heat up a big spoonful and take right before bed time, I call that a"Hot Shot".
Guarenteed to cure what ails you!