Coconut Rice Erupting With Spices, Nuts & Peas
Rita1652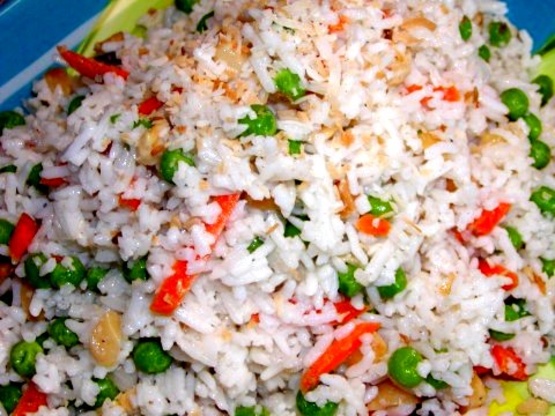 This coconut rice has cumin, cinnamon, cardamom, cloves, red chili, carrot, garlic lemon grass, nuts, peas & coconut.This is being made for a Luau!

I used long grain rice instead of basmati but it was still delicious. The spices/nuts combination were just right. While first cooking, the colours and smell didn't bode well, but by the final dish it was amazing! As i did this for a party i doubled the recipe and had a little left over for lunch the next day...again it was amazing.
Place rice in a large bowl and pour water and coconut milk over it. Stir and set aside.
In a large skillet, heat oil and saute cumin, cinnamon, cardamom, chile, and carrots over med-high heat for a minute.
Stir in garlic, lemon grass, salt, and rice with soaking liquid. Bring to a boil, cover pan, reduce heat, simmer for 15 minutes.
Stir in nuts and peas, cover and simmer another 5 minutes. Remove lemon grass and garnish with toasted coconut.