Coconut, Pineapple, Rum Cake
2Bleu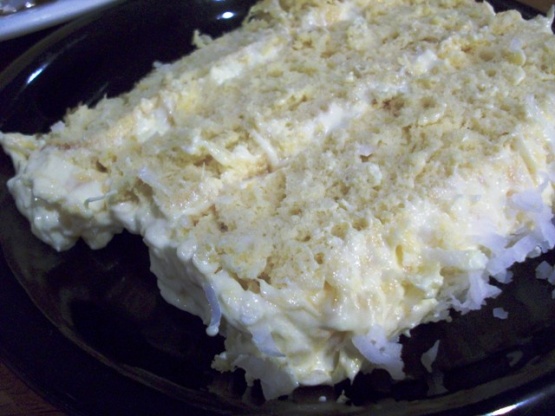 Sweet tooth and Pina Colada lovers this is for YOU!!!!! Optional for the winter parties! You can bake this in 2 medium metal bowls, (using foil to keep stable while baking) to form a snow ball when put together. You just need to slice a piece off the bottom (round part) so it can sit stable and frost with cream top with other half and frost with rest. Cover with coconut flakes. This was tasty but I don't know if it was worth the mess! The filling (frosting) too runny looks like we'll be eating pudding instead. Does have good flavor!
Preheat oven to 350 degrees.
Grease and flour a 15x10 inch pan.
Combine cake mix, 3/4 cup rum, eggs, milk, and oil beat till well combined about 3 minutes. Blend in 1 cup coconut flakes.
Pour into prepared pan and bake for 30 minutes.
Meanwhile prepare cream filling and topping.
Drain crush pineapple saving the juice. Combine pudding, pineapple, 1 cup pineapple juice and 1/4 cup rum.
Fold in whipped topping.
Cool and remove from pan.
Slice into 3 10x5 pieces.
Place one layer on serving dish, top with the cream, add next layer and top with cream, top with last layer. Cover sides and top with remaining coconut.
I pressed the coconut into the cream to shape like a pineapple.
Chill well or you can freeze.
Garnish with pineapple leaves and some pineapples.