Lacy S.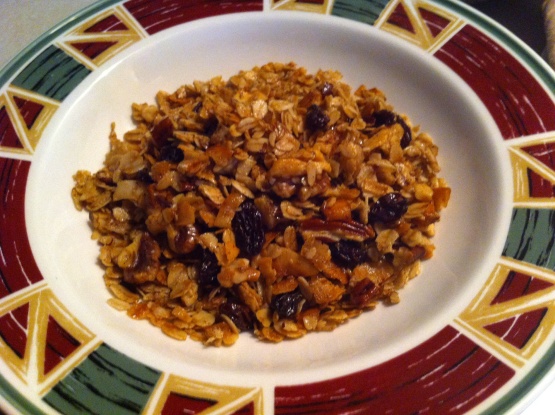 Hearty whole grain granola! You'll never buy store bought granola again!
I made this with a few modifications but it was very good. I didn't add the raisins and used all pecans and no walnuts simply because I used what I had on hand. I would suggest making sure you divide it into two batches when you bake it. Initially I put it all on one pan and couldn't get it to brown. I ended up baking it twice. Once I made a thinner layer it browned up quickly. I baked it spread on parchment paper. I will definitely make it again.
Preheat oven to 325 degrees.
Place pecans and walnuts in a ziploc bag and crush with a mallet or rolling pin.
In a large mixing bowl mix together oatmeal, coconut flakes, crushed pecans and walnuts, and raisins.
In a smaller bowl stir together coconut oil, honey, brown sugar, cinnamon and salt.
Pour the honey mixture over the oatmeal mixture and stir until coated well.
Spread granola onto a large sheet pan and place in the preheated oven.
Bake for 30 mins stirring every 10 so the granola doesn't burn.
Cool on sheet pan then store in an airtight contain for up to one month.
Note: When you remove the granola from the oven it will be brown but not crisp. It will crisp up as it cools. I stir every 15 mins while cooling because it starts sticking together.