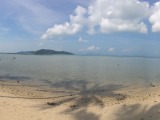 This one is too easy!
Make and share this Cocktail Wieners recipe from Food.com.
Ingredients
Nutrition
1

(16 ounce) package Little Smokies sausages

1

(8 ounce) jar grape jelly

1

(8 ounce) jar seafood cocktail sauce
Directions
In a saucepan over medium heat, combine the cocktail sauce and grape jelly. Mix in the little smokie sausages. Cook 5 minutes, or until the sausages are hot. An optional way would be to put all ingredients into a Crock Pot on low and slowly bring up to temperature.