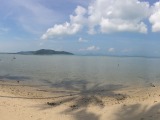 1 (16 ounce) package Little Smokies sausages
1 (8 ounce) jar grape jelly
1 (8 ounce) jar seafood cocktail sauce
Directions
In a saucepan over medium heat, combine the cocktail sauce and grape jelly. Mix in the little smokie sausages. Cook 5 minutes, or until the sausages are hot. An optional way would be to put all ingredients into a Crock Pot on low and slowly bring up to temperature.
Reviews
Most Helpful
I've had this on meatballs but I was looking for a recipe for Lil' Smokies and came across this one and I figured I'd give it a shot. It was even better on the Lil' Smokies! Thanks for posting. Easy, cheap and tasty! (Plus the mommy-to-be ate almost half the pot of them and kept the leftovers! It's pregnant lady approved!)

Good.

Yum! I couldn't find Little Smokies (small town store, lol), so I used some Mini Hot Dogs (with turkey, pork, chicken, and cheese). And I made Dad's Cocktail Sauce instead of the jar of cocktail sauce. So... I guess I only used 1 ingredient out of 3, lol. But, this was very good. DH and I ate all of the mini hot dogs, so we plan to use the leftover sauce with meatballs next! Thanks Pace for an easy and great snack! Made for PAC Fall 2008.