City Market Peach Cobbler
Nimz1466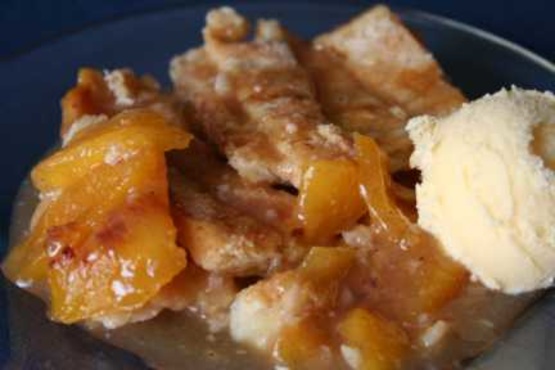 A wonderfully tangy peach cobbler that I found in a supplement to the Sunday newspaper years ago. I don't think I've ever served it to anyone who hasn't liked it. The filling is also great for a pie. For a really decadent dessert, serve this with a scoop of Blue Bell Homemade Vanilla Ice Cream! YUM!! The preparation time is approximate since I've never timed it. The cook time includes chill time for the dough.

Top Review by vlynn
Oh my gosh this is good. I have so many peaches and I'm trying to come up with different recipes for them. I'm so glad I picked this one as one of them. My crust kinda fell apart but I put it back together best I could. Brought it to work to share and I'm having some right now. I'm sure I will make this one again. Thanks!!
Combine peaches, lemon juice and orange juice.
In a separate bowl, mix sugar, spices and cornstarch.
Heat peaches, juices and butter in a saucepan over medium heat until butter is melted.
Mix in dry ingredients; remove from heat and set aside while you prepare crust.
Sift flour, sugar and salt together.
Add shortening and mix until crumbly.
Whip egg and water together, then sprinkle onto flour mixture.
Mix just until dough forms.
Chill for 30 minutes.
Roll out 1/2 of dough and put in bottom and 1/2" up the sides of a 9"x 13" baking dish.
Bake in 350° oven for 20 minutes.
Pour peach filling into crust.
Roll out remaining dough and cut into strips.
Cover filling with dough strips.
Sprinkle with 1 Tablespoon sugar and 1 Tablespoon melted butter.
Bake 35-40 minutes.